Explore the World of BlueFarm Wines: A Comprehensive Guide
If you're a wine enthusiast or a curious connoisseur, you know that stumbling upon a hidden gem or an under-the-radar wine label can be one of the most exhilarating experiences. Imagine unearthing a bottle of liquid gold that may not be well-known (yet) but has the characteristics and flavors that make you fall head over heels with each enchanting sip! In this comprehensive guide, we'll take you off the beaten path and into the captivating world of BlueFarm Wines, where passion meets perfection through an enchanting journey with endless vinous delights. Whether you're new to their offerings or already a fan, exploring the world of BlueFarm Wines will leave you with an enriched love for the fruit of the vine and a deeper appreciation for the mastery of winemaking. So pour yourself a glass, sit back, and let us take you on an adventure that will awaken your senses and tantalize your taste buds!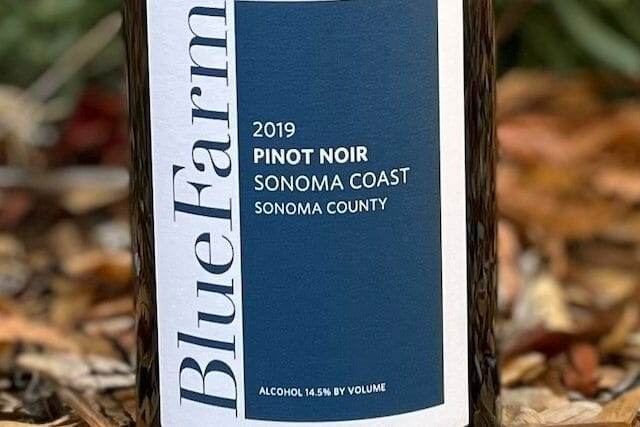 1. The Origins of Blue Farm Wines
The Origins of Blue Farm Wines
Nestled in the heart of Sonoma County, Blue Farm Wines traces its beginnings to 2001 when winemaker Anne Moller-Racke decided to plant seven acres of Pinot Noir behind her historic Victorian farmhouse. The picturesque vineyard, which started as a modest winegrowing project, has now grown toThe story of Blue Farm Wines began in 2001, when founder and winemaker Anne Moller-Racke planted seven acres of Pinot Noir behind her historic Victorian farmhouse in Sonoma. This small vineyard marked the start of a remarkable journey in the world of winemaking. Anne's passion for winegrowing and her dedication to the land soon transformed these seven acres into a thriving winegrowing project.
Today, Blue Farm Wines is renowned for its stunning Burgundian-style Pinot Noir and Chardonnay wines, sourced from five vineyards within the prestigious Sonoma County. The vineyards are meticulously tended to, with a strong focus on sustainable farming practices and deep connection with the land. Under Anne's expert guidance, the label has garnered accolades for its elegant, full-bodied wines that showcase the unique characteristics of the Sonoma terroir.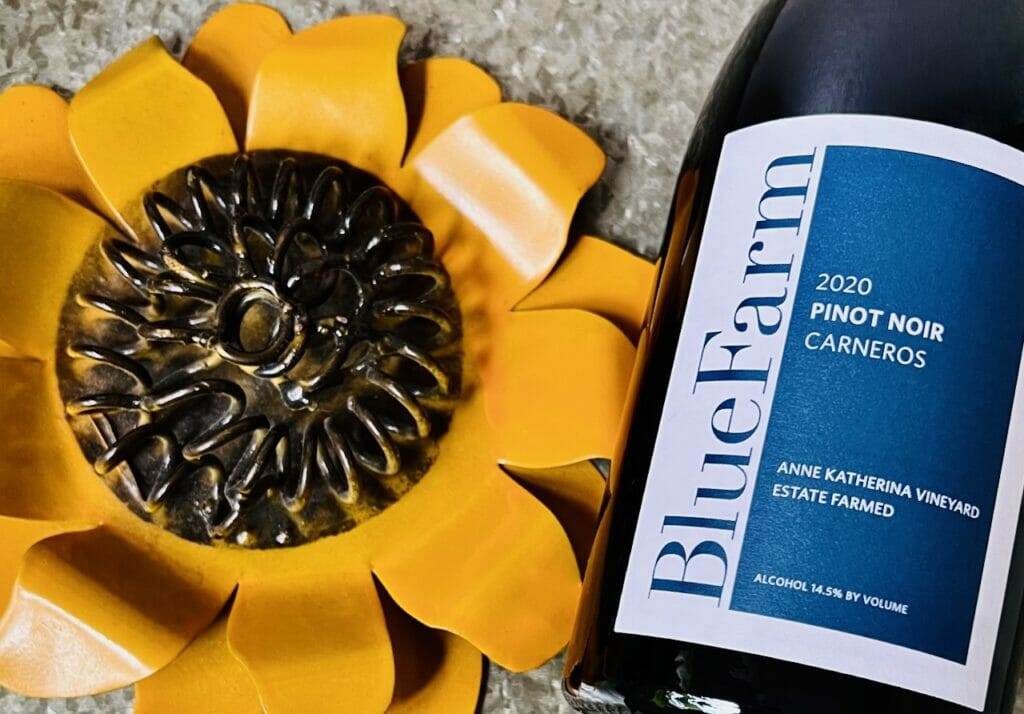 2. Philosophy of Winemaking at Blue Farm
The philosophy of winemaking at Blue Farm revolves around a deep connection with the land and a commitment to cultivating high-quality grapes. This dedication ensures that each vintage represents the unique voice of the season and its growing conditions, leading to exceptional wines with character and elegance.
At the core of Blue Farm's approach is the belief in rigorous farming practices and traditional winemaking techniques. The team strives to make their minimal-intervention approach shine through in every bottle, with a focus on balance, intensity, and grace. By being intimately familiar with each vineyard site, they artfully use tools such as crop thinning and irrigation to bring out the best of the grapes.
Ultimately, the winemaking philosophy at Blue Farm is about capturing the distinct story of each vintage, producing wines that beautifully express the essence of the terroir and the unique characteristics of each vineyard within Sonoma County.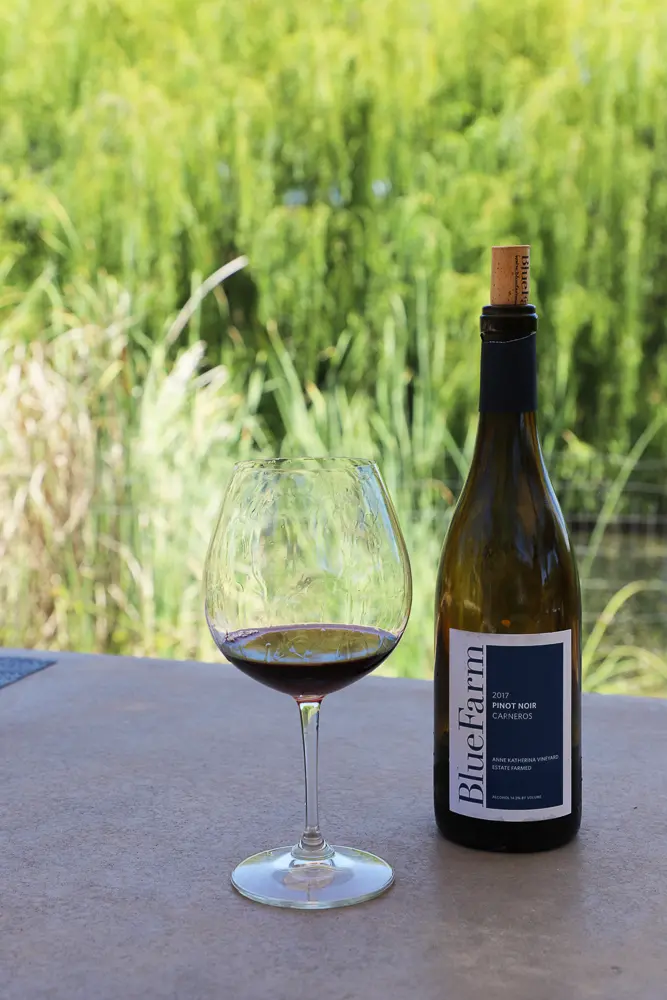 3. Blue Farm Vineyards
Blue Farm Vineyards is a remarkable winegrowing project, launched in 2007 by renowned viticulturist Anne Moller-Racke. The venture began with a seven-acre vineyard divided into four blocks and has since expanded to include five vineyards spread across five AVAs within Sonoma County, California. The primary focus at Blue Farm is on meticulous farming and cultivating a deep connection with the land to produce exceptional Grand Cru style Pinot Noir and Chardonnay wines.
Anne Moller-Racke's experience and intuitive growing style have helped shape Blue Farm wines into poised and powerful offerings. With her extensive background in California viticulture, including her work with legendary winemaker André Tchelistchef, Anne also serves as President and winegrower of The Donum Estate, overseeing 242 acres. At Blue Farm, she works alongside critically acclaimed winemaker Kenneth Juhasz to create small-lot, single-vineyard wines that reveal extraordinary discoveries from their gifted landscapes.
Today, Blue Farm Vineyards stretch from Sonoma Valley to its Coast and the Russian River, providing wine lovers with a unique opportunity to explore the various terroirs and tastes of Sonoma County through their expertly crafted wines. As you journey into the world of Blue Farm, you'll be greeted by a rich and diverse array of flavors, expressions, and textures that perfectly encapsulate the story behind each vintage.
4. Vintage Story of Blue Farm Wines
Blue Farm Wines is renowned for capturing the voice of the vintage in each bottle they produce. Each vintage tells a unique story that reflects the growing season, from bud break to harvest, with the last 30 days before harvest being the most crucial. The weather during the flowering process plays a significant role in determining the quantity and quality of the wine produced.
Founded by Anne Moller-Racke, Blue Farm prides itself on the rigorous farming and organic cultivation practices that are deeply rooted in their connection with the land. With a deep understanding of their sites, Blue Farm utilizes a variety of tools, including crop thinning and irrigation, to enhance the intensity and grace of their wines. The result is an exquisite collection of vintages displaying the distinct character and complexity of each growing season.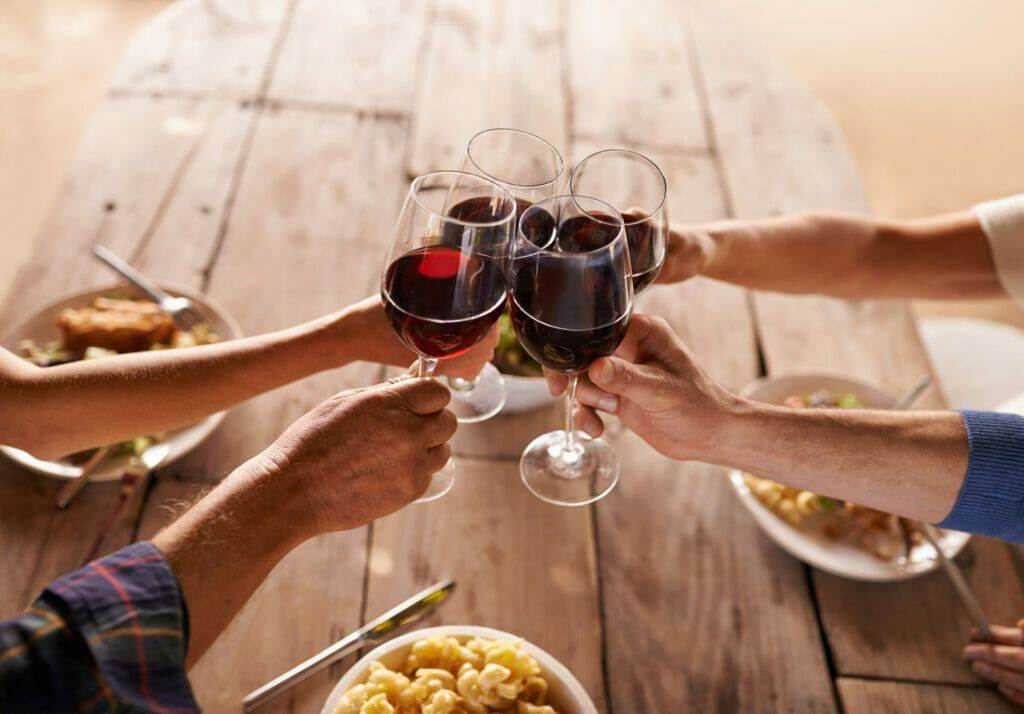 5. Signature Chardonnay Laceroni Russian River Valley
The Signature Chardonnay Laceroni Russian River Valley is a standout offering from BlueFarm Wines, crafted with the finest estate-grown grapes. This exceptional Chardonnay comes from the Laceroni Vineyard, a cool-climate site located near the town of Graton in the renowned Russian River Valley of California. This unique terroir lends itself to producing an unctuous, structured, and complex white wine that truly shines.
On the palate, the Laceroni Chardonnay reveals elegant and nuanced flavors, with notes of Meyer lemon, stone, and Gravenstein apple. These bright fruit characteristics are complemented by a hint of baking spice, providing a well-balanced and harmonious tasting experience. This refined Chardonnay is truly a testament to the high-quality wines that BlueFarm Wines produces and the expressive nature of the Russian River Valley region.
Given its remarkable profile and flavor complexity, the Signature Chardonnay Laceroni Russian River Valley has garnered praise and high ratings from renowned publications, such as Wine Enthusiast. Connoisseurs and casual wine drinkers alike can appreciate the superb craftsmanship and attention to detail that goes into each bottle of this distinguished wine. Paired with your favorite dishes or enjoyed on its own, this Chardonnay is sure to delight the senses and leave a lasting impression.
6. Pinot Noir King Ridge Fort Ross-Seaview
The Pinot Noir King Ridge Fort Ross-Seaview is a stellar representation of Blue Farm Wines' commitment to crafting Burgundian Grand Cru-style wines. This exquisite Pinot Noir comes from the King Ridge Vineyard Estate in the Fort Ross-Seaview AVA on the Sonoma Coast. The area is known for its coastal influence, contributing to a balance of structure, minerality, and elegance in the wine.
A true testament to Blue Farm's viticulturist Anne Moller-Racke's dedication, the 2018 vintage received high praise from Wine Enthusiast for its robust and weighty profile. Exhibiting intense tones of rose, dark cherry, and sage, the wine is incredibly well-rounded and offers a delightful tension and texture on the palate.
Expertly crafted by the acclaimed winemaker Kenneth Juhasz, the Pinot Noir King Ridge Fort Ross-Seaview is a must-try for those keen to explore different Californian Terroirs and delight their senses with exceptional discoveries. So, grab a glass and immerse yourself in the complex elegance of this outstanding Pinot Noir from Blue Farm Wines.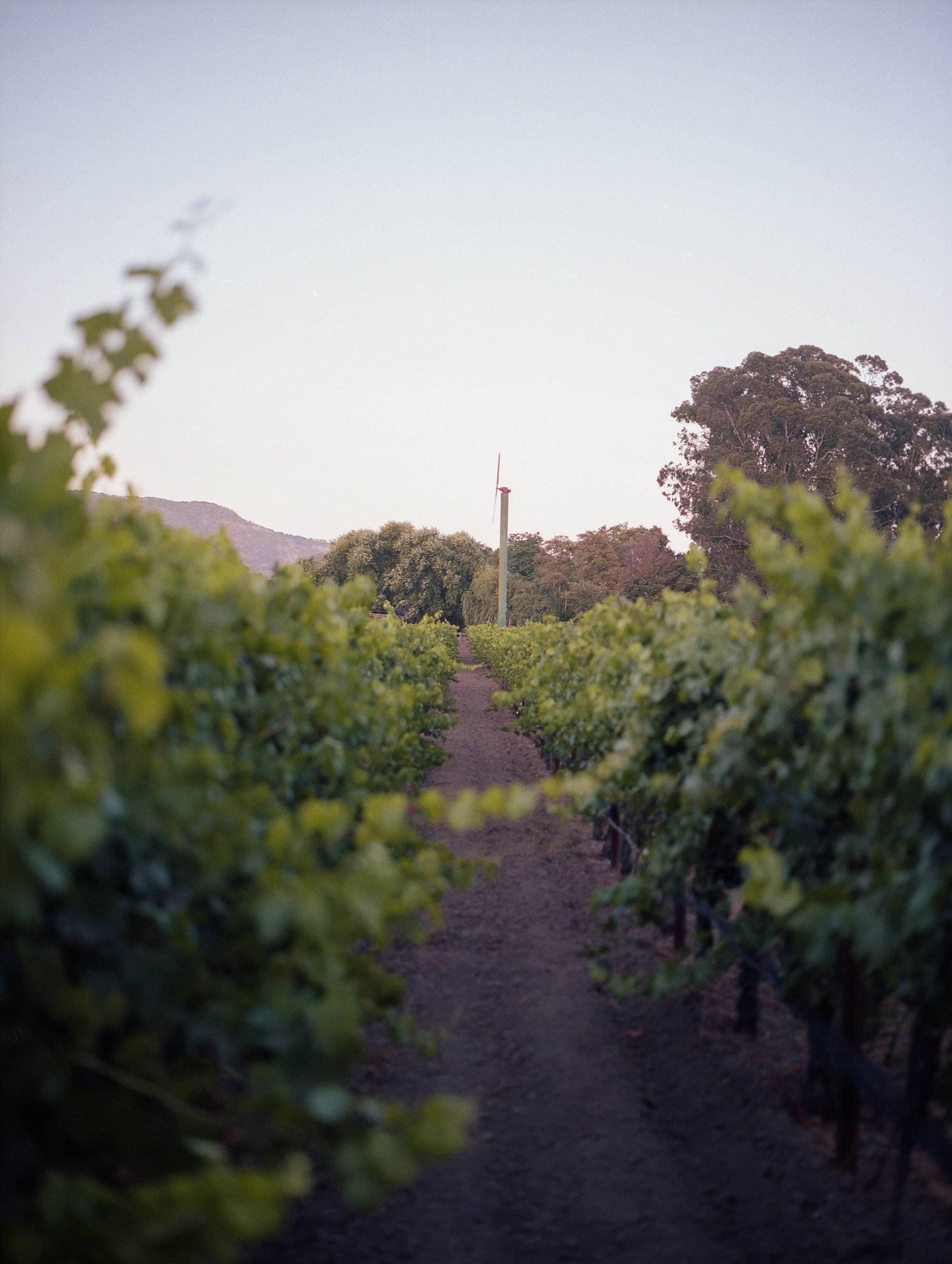 7. Guaranteed Allocation Program at Blue Farm
The Guaranteed Allocation Program at Blue Farm Wines is a unique offering designed for a select group of wine enthusiasts who wish to have exclusive access to their limited production wines. This program was created to ensure that a small number of devoted wine lovers could enjoy the complete range of Blue Farm's exquisite Pinot Noirs and Chardonnays. The reason for limiting the number of members is because of the winery's commitment to working with low-yielding, high-quality vineyards, resulting in an average of 250 cases or less of each wine.
Being a member of the Guaranteed Allocation Program not only provides privileged access to fantastic wines, but also offers members invites to exclusive events and tastings, such as the Harvest Kick Off and Pre-Release Party. Blue Farm's devotion to cultivating their vineyards, combined with the expert craftsmanship of winemaker Anne Moller-Racke, ensures that members will experience truly exceptional, age-worthy wines that reflect the beauty of Sonoma County.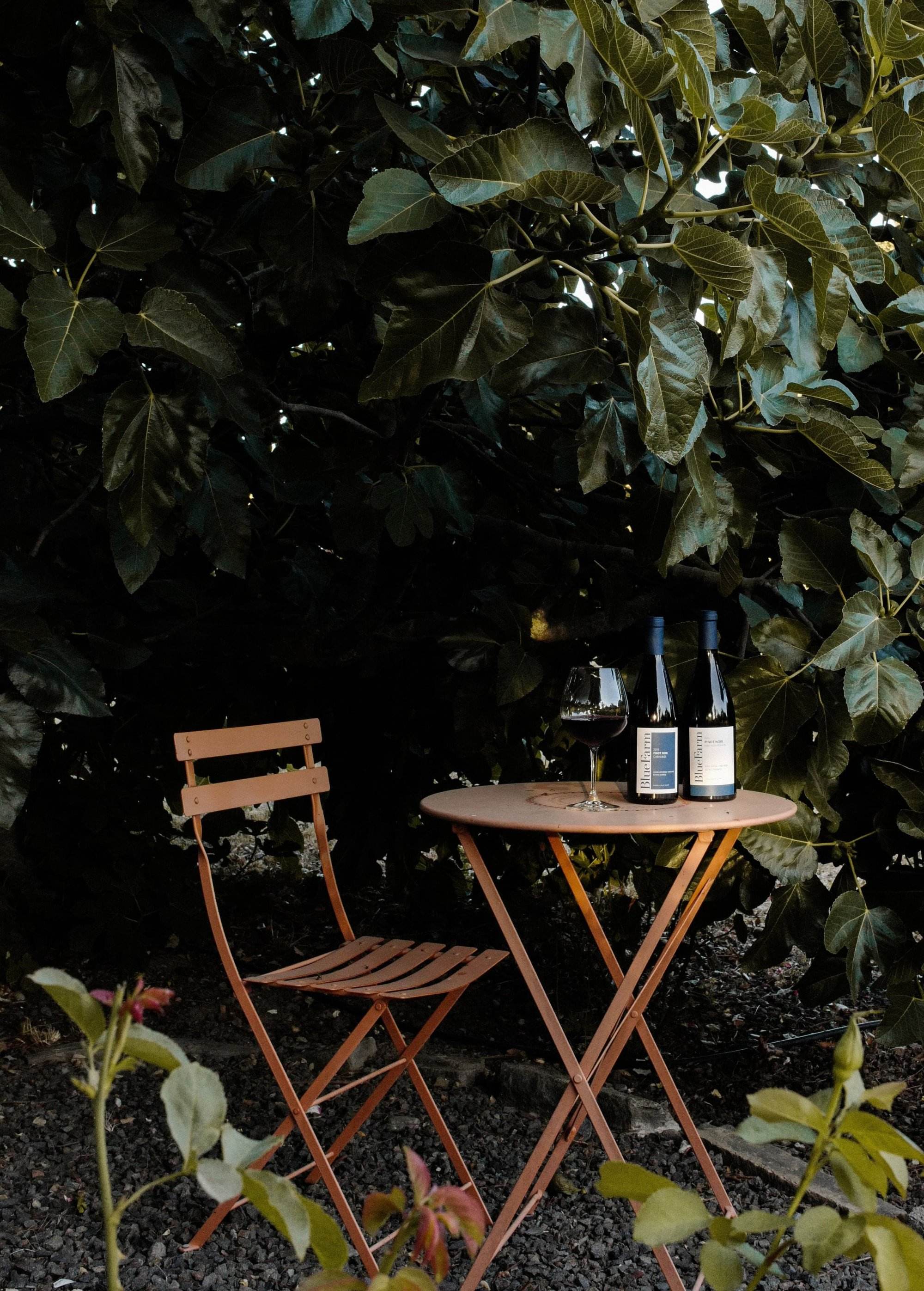 8. Harvest Kick-Off and Pre-Release Parties
As the harvest season approaches, the excitement and anticipation at BlueFarm Wines reaches new heights. To kick off this special time of the year, the team hosts a Harvest Kick-Off party, allowing guests to celebrate the beginning of this important phase in the vineyard lifecycle. This festive event offers attendees a unique opportunity to immerse themselves in the world of winemaking, with various activities designed to showcase the hard work and dedication that goes into crafting each bottle of BlueFarm Wines' offerings.
In addition to the Harvest Kick-Off, the winery also hosts Pre-Release Parties, providing a sneak peek into the wines that are scheduled for release in the coming months. This exclusive event treats guests to a tasting experience like no other, where they can sample the forthcoming vintages before they are officially available to the public. As these special gatherings occur in a friendly, relaxed atmosphere, visitors can mingle with fellow wine enthusiasts and the BlueFarm Wines team, who share their passion for creating exceptional Sonoma County Pinot Noirs and Chardonnays.
Mark your calendars and don't miss out on these delightful celebrations at BlueFarm Wines, where you can indulge in unforgettable moments in the picturesque Sonoma wine country ambiance.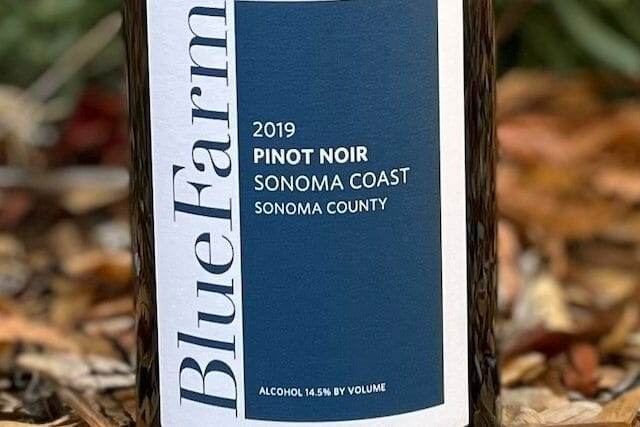 9. Luxury Wine Dining and Travel with Blue Farm
Blue Farm Wines has emerged as a favorite among wine connoisseurs who appreciate the finesse and elegance in winemaking. Located in Sonoma County, the winery was founded by Anne Moller-Racke, who created a serene and peaceful ambiance for visitors to explore the beautiful vineyards and savor the captivating flavors of Blue Farm's Pinot Noir and Chardonnay wines.
Expertly crafted in Burgundian style, Blue Farm wines echo the rich terroir of Sonoma County while showcasing Anne's refined winemaking technique. A visit to this stunning vineyard is not only a feast for the palate but also a visually striking experience perfect for luxury travelers.
The JetSetting Fashionista, a popular luxury travel blog, has featured Blue Farm wines in a multitude of recommendations, and guests attending the Inaugural Pinots & Plaid Event were treated to Blue Farm's exquisite Pinot Noir. Travelers seeking a taste of Sonoma's finest can also enjoy Blue Farm's delightful Rosé, highlighted in the blog's Rosé wine roundup.
Visiting Blue Farm Wines during the pandemic was met with praise for their commitment to safety and maintaining an exceptional wine tasting experience. The vineyard is also dog-friendly, ensuring both you and your furry companion can enjoy a leisurely stroll through the idyllic surroundings. It truly is a must-visit destination for those seeking luxury wine, dining, and travel experiences.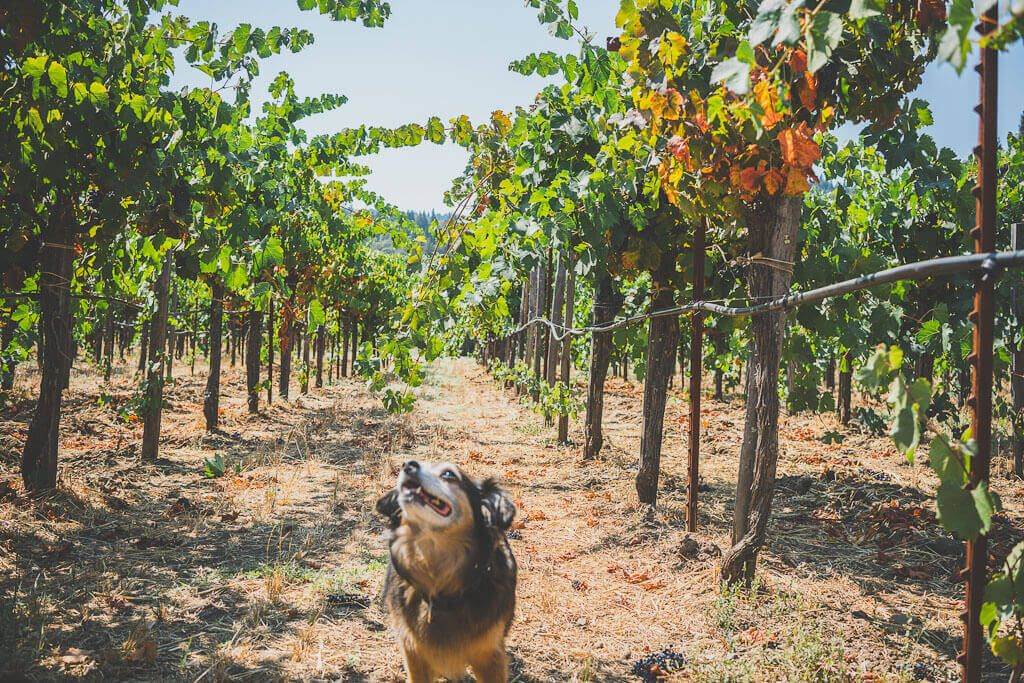 10. Dog-Friendly Wineries in Sonoma
Sonoma County is well-known for its wine and natural beauty, making it a popular destination for both wine enthusiasts and their furry companions. Several wineries in the area have gone the extra mile to accommodate dog owners and their four-legged friends, offering exciting experiences for both parties.
One such winery is Larson Family Winery, which welcomes dogs with open arms as they explore the vast green space and picnic area. The tasting room offers a variety of wines, including some inspired by the family dogs. Similarly, Muscardini Cellars welcomes well-behaved dogs on their patio and provides treats, water, and toys for their comfort.
Gundlach Bundschu Winery, one of the oldest wineries in California, allows on-leash dogs to enjoy their picturesque Rhinefarm alongside their owners. The historic tasting room also carries dog-themed accessories for visitors to take home. Wilson Winery, another dog-friendly winery, is home to the Three Dog Zin wine, which features the family's three dogs on the label.
Sonoma Valley also boasts a selection of dog-friendly wineries, such as Deerfield Ranch Winery, Amista Vineyards, and Dutton Goldfield Winery. Each of these wineries goes above and beyond, providing water, dog treats, and spacious outdoor areas for dogs to roam, ensuring an enjoyable experience for both wine lovers and their loyal companions.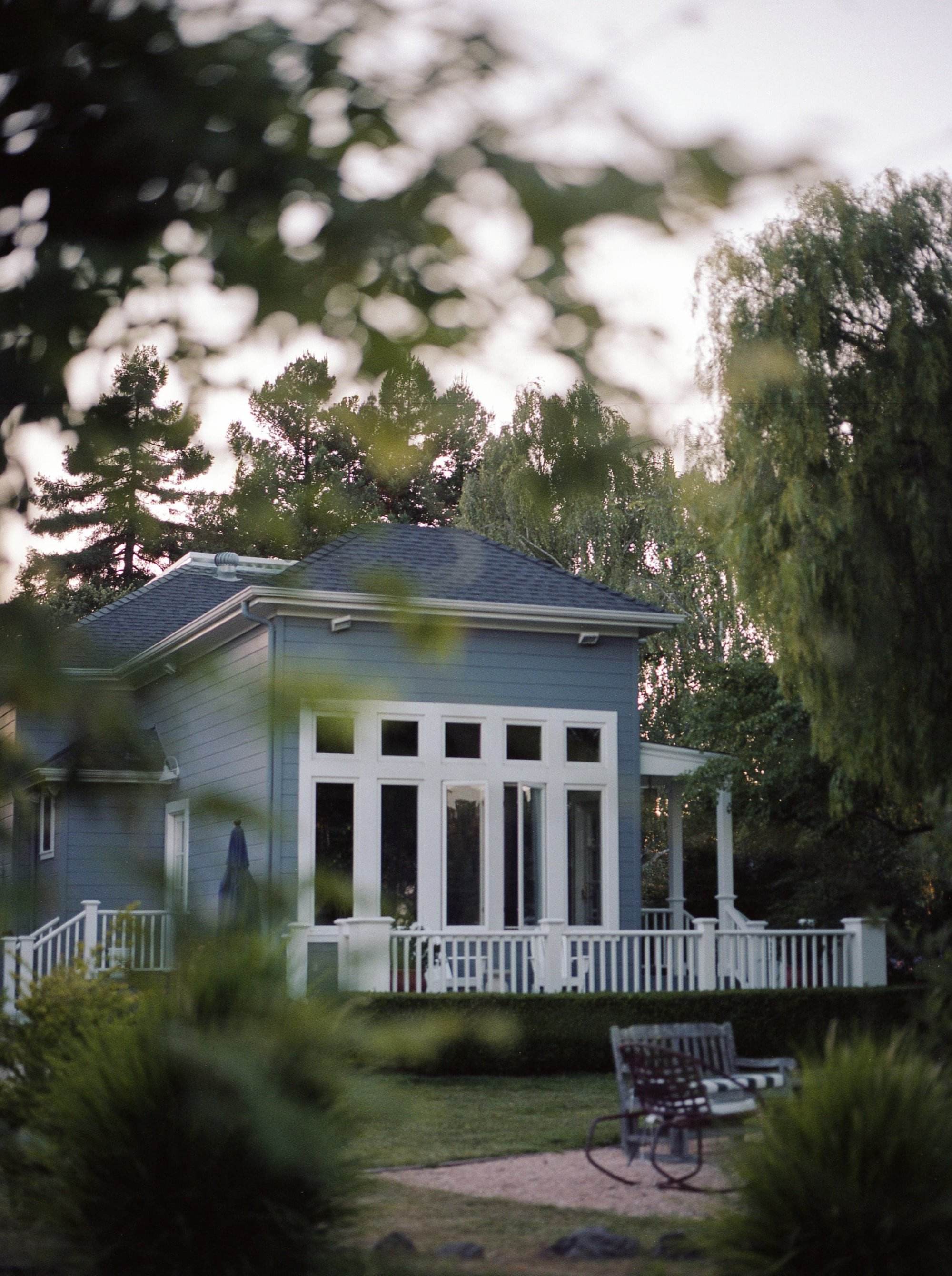 Blue Farm Wines
Blue Farm Wines, nestled in Sonoma County, is a winegrowing project that began in 2007 with a seven-acre vineyard founded by Anne Moller-Racke. It has since expanded to include Grand Cru style Pinot Noir and Chardonnay from five different vineyards and five AVAs within the region. The focus has always been on diligent farming, which cultivates a deep connection with the land.
Winemaker Anne Moller-Racke brings a wealth of experience to Blue Farm Wines, having played a significant role in establishing Donum as one of the top Pinot houses in Carneros. With Blue Farm, Anne and her team strive to capture the voice of each vintage, using their tools wisely to bring out the intensity and grace in every bottle.
Visitors to Blue Farm can expect a serene and peaceful experience, taking in the breathtaking beauty of the vineyards while sampling expertly crafted, elegant wines. Some of the highlights include the 2016 Chardonnay Laceroni Russian River Valley, which offers intense acidity balanced by a spicy finish, and the 2016 Pinot Noir King Ridge Fort Ross-Seaview, featuring a tangy citrus palate with a lingering layer of Asian spice.
Lastly, Blue Farm Wines also caters to a select group of wine enthusiasts through their Guaranteed Allocation Program, offering complete access to their limited-production, high-quality wines. Stay up-to-date on Blue Farm events and new releases by joining their mailing list and visiting their picturesque vineyards in Sonoma County.